&nbsp
TimberHub can provide several services: (1) live results as runners cross the finish line; (2) live cross country scores updated every 1-2 seconds; (3) formatted results that are easily viewable on smartphones, tablets, laptops and PCs; and (4) field event entry and reporting via the Internet. These services are primarily for timing companies, public information officers, coaches, or anyone else who manages a running sports-related website.
If your customers have ever been frustrated by not being able to view results on smartphones and tablets, then timerHub provides a solution. No need to purchase any apps. This website simply makes track and cross country results more accessible on your personal computer, iPhone, iPod, iPad, and other iPhone-class devices.
Timerhub supports the following results formats: FinishLynx, HyTek Meet Manager, and RunScore.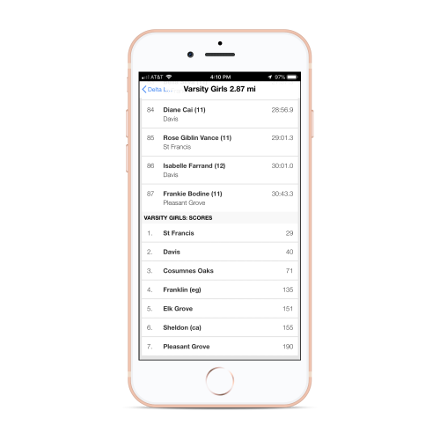 What is TimerHub?
If you use FinishLynx, TimerHub can send event results and cross country scores to your users while the results are read off the FinishLynx image.
After results are compiled with HyTek Meet Manager or RunScore, TimerHub reads information from your website and reports the results in web and mobile formats to your users.
TimerHub does not change any results; you are in control of that. Every time you add more results or change something the TimerHub dynamically responds.
Every user gets their own linkable web page to post the location(s) of results.
Web-Ready
Results are converted to a format that is compatible with most modern web browsers. TimerHub is compatible with Google Chrome, Mozilla Firefox, Safari, Opera, Internet Explorer 9.0+, and Microsoft Edge. Some features of our web site do not work with older versions of Internet Explorer (e.g., IE 6, 7, or 8).
Mobile Website
Timerhub is designed tobemobile-first with the following features:
Buttons linking to real time results for your events
Compatibility with many mobile devices and browsers including iPhone and Android devices.
The flexibility to be used in your customer's browsers or to be set up as a web app. For example, on an iPhone if the mobile website is added to your Home Screen it will use the device full screen and can be launched like a native iPhone app.
Pricing
Please Email for a quote.